Lawn Weed Control Mechanicsville And Hanover County Virginia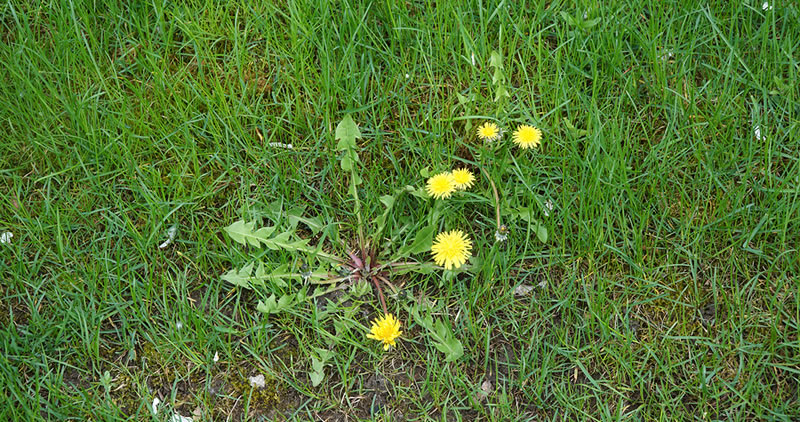 Professional Weed Control For Lawns And Gardens
We hand-pull or spray herbicides to rid your property of weeds.
There are many types of undesirable weeds that commonly grow and overtake lawns and gardens throughout the Hanover County area.  If left alone, weeds like Dandelions and Plantain and a host of other invasive weeds can quickly take over your lawn and gardens.  The weeds will starve the desirable plants of nutrients, weeds often grow faster and they just become more dominant as they continue to propagate and multiply.  Eventually they will end up choking out the desirable plants or grass and all of a sudden your property stands out for the wrong reasons.
The best type of weed control is a program that is implemented early (when you install a new lawn or garden) and is on-going.
Executive Lawn And Landscape is a local landscaping company based out of Mechanicsville and serving Hanover County, Virginia.  We offer our weed control and removal services as part of our regular lawn mowing programs or as a standalone service for both residential and commercial clients.  We can provide weeding (by hand) or weed removal (via spraying) for properties like HOA's, townhomes and other residential or commercial developments.
What Type Of Weeds Do You Have?
The most common types of weeds we're asked to eradicate either by hand or with use of a herbicide are broadleaf perennials such as dandelion, plantains, wild violet, creeping Charlie, mock strawberry, and more.  For a complete list of weeds and photos to identify them you can visit:  Virginia Tech College Of Agricultural And Life Sciences Weed Identification Chart.
Getting rid of weeds properly can be a long process, especially if you have a large property and the problem has gotten out of control, this is why we recommend you start your weed control program long before you think you need it.  We offer two methods of weed control for our customers with the first option being hand removal, we dig up the weeds or pull them out one-by-one.  The other option is to spray a herbicide and we have a few different products at our disposal depending on how severe the problem is or how aggressive you'd like to get.
Land & Garden Weed Control Services
Hand Weeding of Intricate Gardens
Noxious Weed Control For Lawns
Crab Grass Removal/Spraying
Weeding Commercial Landscapes
Long-Term Weed Control Programs
How Our Lawn and Garden Weeding Process Works
The first step is for us to have an initial visit to your property so we can determine the state of your lawn and gardens and what type of weeding attention it might require.  Some of the lawns we visit for weeding services are well beyond the point of bringing them back easily.  We'll tell you if that's the case and we can come up with a plan to have the area looking beautiful once again.
We start with our initial consultation.
We check out the health of your lawn/garden and determine a suitable weed control program.
We show up on the scheduled days and complete our services as promised.
The end result will be a lawn or garden free of unsightly weeds!
After we've visited your property and discussed the project with you we'll be to provide you with an accurate cost estimate for our services along with information on the products we've recommended to rid your property of weeds.
If you'd like have us develop a weed control program for your lawn or gardens please give us a call (804) 305-2446 or fill out our online contact form and we'll get back to you right away.