Landscape Lighting Mechanicsville And Hanover County Virginia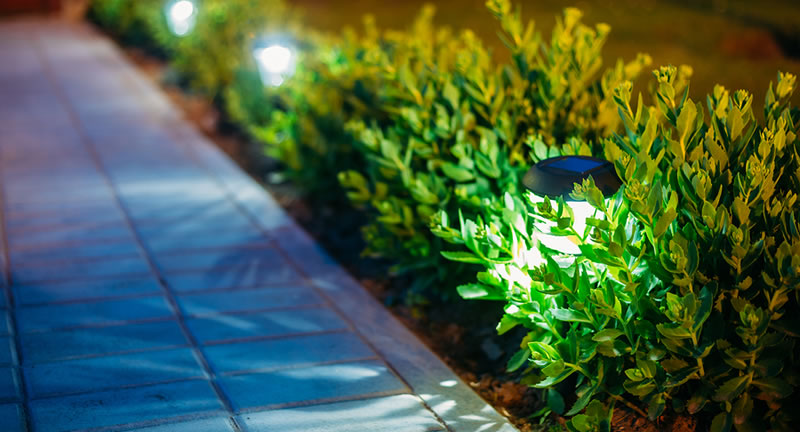 Landscape Lighting Design & Installation
We install low-voltage and LED landscape lighting
If you're looking for a way to make a dramatic difference in your landscaping without heavy construction then Landscape lighting is a great place to start.  A properly planned out and installed landscape lighting system does more than just improve the appearance of your landscape it also provides more security and it can also improve the safety around your property as well.  You'll really appreciate the difference when you come home late one night and your property looks amazing or you host an event or party and your guests comment on how fantastic it looks.
Why Do You Want Better Landscape Lighting For Your Property?
Are you worried about safety issues with poor lighting?
Are you looking to improve your property security?
Do you want to draw attention to specific trees or garden beds?
Do you want to be able to enjoy a deck or patio in the evenings?
Executive Lawn And Landscape is a local landscaping company based out of Mechanicsville and serving Hanover County, Virginia.  We specialize in designing and installing low-voltage landscape and outdoor lighting systems for both residential and commercial properties.  Whether you want to illuminate your driveway, your outdoor patio, the exterior of your home, or some garden beds our team of landscape lighting specialists can come up with a dazzling and impressive lighting solution for your property.
Landscape Lighting Installations We Offer
Low voltage outdoor lighting
LED Landscape lighting systems
Driveway lighting installations
Pool deck lighting installations
Garden lighting installations
Deck and patio lighting installations
Upgrading existing landscape lighting systems
Garden spotlight installations
Outdoor security lighting
Deck & Patio Lighting Installations
Would you use your deck or patio more often if there was better lighting at night?  If you like to entertain guests with dinner parties or host BBQ's or pool parties during the warm summer months landscape lighting will help you get more enjoyment out of your property.
We can install LED landscape lighting around the perimeter of your deck or patio we can install lighting into deck stairs and spotlights to make the area safer and more enjoyable when the sun sets.
The Three Components Of A Landscape Lighting System
Transformers:  The transformer for your landscape lighting is basically the brain-box of the entire system.  They can be sized to match the number of lights you have in your system or for specific voltages or electrical draws.  Transformers can be linked to timers or dimmers so you can have complete control over your lighting system.
Conductors:  Conductors are the low-voltage wires we've buried in your property that run from the transformer or power source to the different fixtures we've placed throughout your landscape.  Conductors must be sized correctly to carry the load from the power source to the specific lamps or lighting zones around your property.  Many times landscape lighting conductors can be installed with an irrigation system if you are having one installed already.
Landscaping Lighting Lamps & Fixtures:  There are many different types and styles of outdoor lighting fixtures.  In order to help you narrow down the choices it's best if we can see the areas you'd like illuminated.  We can then provide you with several options for each specific zone of your landscape lighting installation.  Whether you want colored fixtures, or spot-lights, hidden (recessed) lights, or above-ground fixtures we have a variety of options available.
If you'd like to get the landscape lighting design and installation process started then please give us a call (804) 807-9688 or fill out our online contact form and we'll get back to you right away.